Bin The Wipe, Northumbrian Water's campaign to protect homes and the environment by improving flushing habits, is about to enter two new parts of County Durham.
Crack teams of sewer workers have been carrying out baseline checks on the sewer network in part of the DL5 postcode area in Newton Aycliffe and neighbouring Middridge village, as well as DH6 in Bowburn.
Northumbrian Water launched Bin The Wipe in January 2020, after wipes were found to contribute to 64% of the 16,500 blockages its teams cleared in 2019. The aim is to try to educate customers about the problems caused when people flush wipes, and to help develop better flushing habits.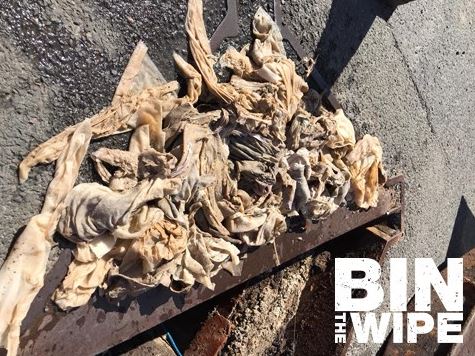 Wipes don't break down the way toilet roll does and can settle in pipes, starting blockages, or mix with other unflushables to obstruct the flow of the only things that should really be flushed – the '3Ps' of toilet paper, pee and poo.
Such blockages can force waste back the way it came, into people's homes or into community or commercial premises, or cause it to surcharge out into the environment.
Northumbrian Water's analysis pinpoints areas that are hotspots of wipe flushing. The company then sends a team in to be a dedicated presence, monitoring sewers, finding wipes and tracing back to the homes from which they were flushed.
Working in tandem with educational letters that are sent to customers in the area, the team then follow up with conversations to encourage people to stop putting wipes down the toilet.
Only if the education fails to change behaviours does the company consider more punitive measures, such as recharging the cost of blockage clearances, or even prosecution. Under the Water Industry Act 1991, it is illegal to put anything in the sewer that can impede the flow of the waste that should be in there.
In previous hot spots, the flushing of wipes has reduced by around 50%.
Simon Cyhanko, Northumbrian Water's Head of Wastewater Networks, said: "There are many reasons to stop flushing wipes, and making that change is really simple. Put your wipes in the bin, not down the toilet.
"You wouldn't use your bin as a toilet and the consequences of using your toilet as a bin can be equally horrendous. Waste backing up into someone's house is horrific and it might not even be your home that your wipe flushing causes to flood in this way. Imagine if it was the home of a family member, a neighbour, a local care home.
"We're hoping we can help people across the Newton Aycliffe and Bowburn areas to understand that by making this really easy change, they are helping to protect homes and the environment.
"And for anyone outside of those areas, it's still the right thing to do, and we will be coming to more parts of the North East in due course, because this is something we are hugely passionate about changing."
To help customers understand more, Northumbrian Water has created an FAQ at www.nwl.co.uk/binthewipe, answering questions like "what if the label says 'flushable'?" (still please don't flush it) and "can you really trace wipes back to the homes that flushed them?" (yes we can, we have and we will).