We recognise that sometimes life's ups and downs mean that some customers may find themselves in challenging financial situations. Whilst water bills are a comparatively small part of total household costs, we are determined to do everything it can to help our customers.
In 2014, we teamed up with StepChange Debt Charity, in a first for the water industry, to create a partnership to offer customers access to free, confidential debt advice and support. As the UK's largest debt charity, StepChange is a natural partner to entrust with such important and often sensitive matters for our customers.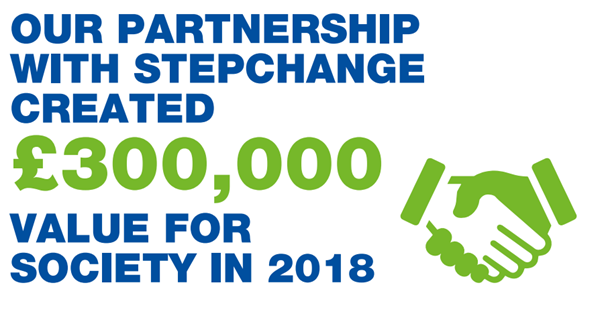 Last year the partnership saw more than 1,600 referrals to StepChange. These referrals allow us to understand better each customer's financial situation and create an opportunity, and the time, for them to work with the charity to put together an action plan. StepChange gives advice on a range of issues, from debt to bankruptcy, and even has an online benefits calendar on its website. The personal impact this partnership has on people lives is paramount.
Our partnership runs alongside a range of support available directly through our team and is part of our award winning Water without the Worry campaign.
We are committed to understanding and improving our impact on society, so we conducted a social impact assessment of the benefit this partnership has to society.
The report describes their assessment of the social impact we are having through this partnership. Amongst other things, the report estimates that our partnership with StepChange created £300,000 for society in 2018, through potential for improved physical and mental wellbeing, employment and productivity, repayments to creditors, and improved financial management.
We encourage all readers to review the full report to understand their work and conclusions about the impact we are having through this important initiative.
We do also offer other help to customers on low incomes, and have an arrears write-off scheme, so it makes it even more impressive to see the additional value accrued from our partnership with StepChange – the 'above and beyond' aspect to our work.