Two students are working with cyber security specialists at Northumbrian Water to help deliver important safety messages to the company's employees.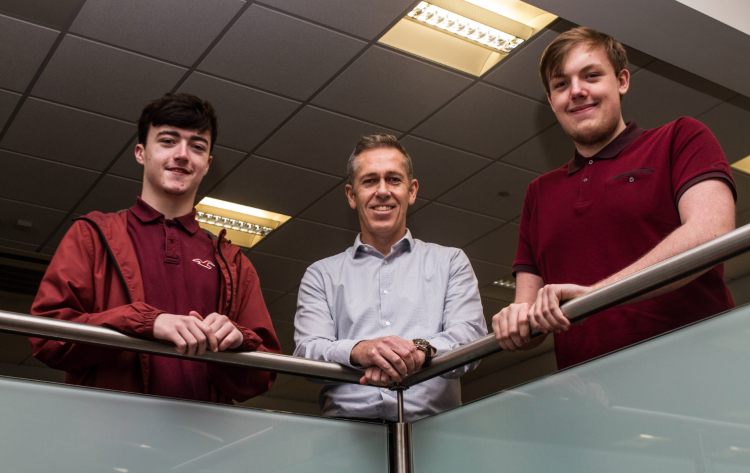 Picture shows, left to right: Logan Crawley, Anthony Smith and Matthew Bell.
Matthew Bell and Logan Crawley, both 17 and from Gateshead, are spending time with the water company to gain valuable workplace experience as part of their Level 3 Extended Diploma in Creative Media Production Technology - TV & Film qualification at Gateshead College.
The pair are spending two days a week with the Information Services Security team at Northumbrian Water as they work towards their qualification and as part of work to pilot T Level qualifications with the College. The placement is supported by the NWG Academy, Northumbrian Water's work to develop the workforce and skills base it needs for the future.
During the placement, Matthew and Logan will create a series of films to help employees further their understanding of subjects such as staying safe and protecting information online, building on work the in-house team has been doing with the business' Employee Communications department.
Anthony Smith, Information Services Security Manager at Northumbrian Water, said: "The security of information is of vital importance to all businesses, as well as to their customers and other organisations they work with, so we embrace all opportunities to keep our employees as well informed as possible.
"As young film makers, Matthew and Logan are bringing their own research and ideas into our team, finding new ways of delivering our messages to employees across the business, whether they are office based, working in remote locations, or out on the road responding to issues on our networks.
"It's fantastic to add their skills and insight to what we already do within the business, and we hope that the experience will be as valuable to them as we are sure it will be to us."
Sophie Carvin, NWG Academy Manager, added: "We're very keen to work with Matthew and Logan, they'll be pioneers, helping us to explore how we can best provide extended work experience opportunities to more people undertaking T Levels in the future."
Matthew and Logan started making films in Media Studies GCSE at Lord Lawson School, in Birtley, and have previously worked together on projects including a video for the Children's Heart Unit Fund (CHUF) charity.
Matthew said: "I really enjoying working on the project with Logan. It gives us both the opportunity to use the skills that we have been taught at college into practice on a real industry project. The team at Northumbrian Water have been really helpful and I'm hoping that our finished piece of work will be a really useful tool for their staff."
T Levels (or Technical Levels) are new qualifications, the first of which will be launched in September 2020. These practical qualifications are studied after GCSEs and are the technical equivalent of A Levels. They provide young people with technical knowledge and practical skills specific to their chosen industry or occupation and include 315 hours on an industry placement with an employer. They are designed to prepare students for work as well as being a potential route to university or a higher level apprenticeship.