A campaign to protect homes and the environment from sewer flooding caused by wet wipes is coming to parts of Gateshead.
Northumbrian Water launched its Bin The Wipe campaign in January 2020 after wipes were found to have contributed to, or caused, 64% of the 16,500 blockages its teams cleared from sewers in 2019.
Areas that are identified as "hot spots" for the flushing of wipes become the focus of intensive activity aimed at educating customers and changing behaviours.
Crack teams of sewer workers are now set to move into the latest hot spot, centred around the NE10 9 postcode area of Gateshead.
Prior to their arrival, customers in the area will have received educational letters informing them why flushing wipes is bad, what the teams will be doing, and the consequences of continuing to flush wipes.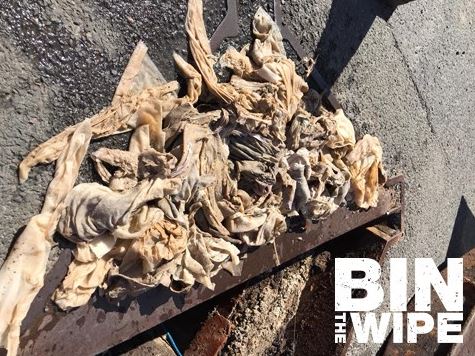 Unlike toilet roll, wipes don't break down, which means they can settle or snag in the sewer pipes and create blockages that can force the waste back into people's homes, or out through manholes, because it is unable to carry on its journey to treatment works.
The sewer team uses bespoke tools that help them track upstream to the homes where the flushing of wipes is happening, enabling them to have conversations with customers to reinforce the message in the letters.
In most cases since the campaign began, this has helped people to make a positive change. However, if flushing of wipes continues, then the company can recharge the cost of blockage clearances. In the worst case scenario, prosecution is possible, as putting any item in the sewer that impedes the flow of waste is illegal under the Water Industry Act 1991.
In previous hot spots, the flushing of wipes has reduced by up to 60%. The Gateshead hot spot adds to ongoing work in Darlington, Ferryhill, Bowburn and Newton Aycliffe.
Simon Cyhanko, Northumbrian Water's Head of Wastewater Networks, said: "We want to help people understand the devastating problems that can be caused by flushing wipes.
"If the contents of the sewer – the things people flush – back up into someone's home, through the toilet, bath, sink, shower tray, that can be the worst thing that could happen to them in relation to our services. And we want it to stop.
"The biggest contributor to the blockages that cause this to happen is people flushing wet wipes and that is something that people can stop doing right now, without any cost to themselves. It's as simple as putting your wipes in the bin, not down the toilet.
"You wouldn't use your bin as a toilet, so don't use your toilet as a bin.
"The overwhelming majority of customers, when we've had these conversations because we've traced wipes back to their homes, have been brilliant and it's really opened their eyes to the possible results of what they're doing. We're hoping to have that same effect in Gateshead. Whether people stop because of the letters or because of talking to our team, it's a great result.
"However, this is something everyone everywhere who flushes wipes, sanitary products, nappies – anything that isn't toilet paper, pee and poo – can do right now and make a contribution towards protecting their homes, those of people who live around them, and the environment.
"It's simple. Bin The Wipe."
To help customers understand more, Northumbrian Water has created an FAQ at www.nwl.co.uk/binthewipe, answering questions like "what if the label says 'flushable'?" (still please don't flush it) and "can you really trace wipes back to the homes that flushed them?" (yes we can, we have and we will).