Northumbrian Water has donated vital cleaning materials to a local charity to allow its lifesaving volunteers to continue working in a Covid-secure environment.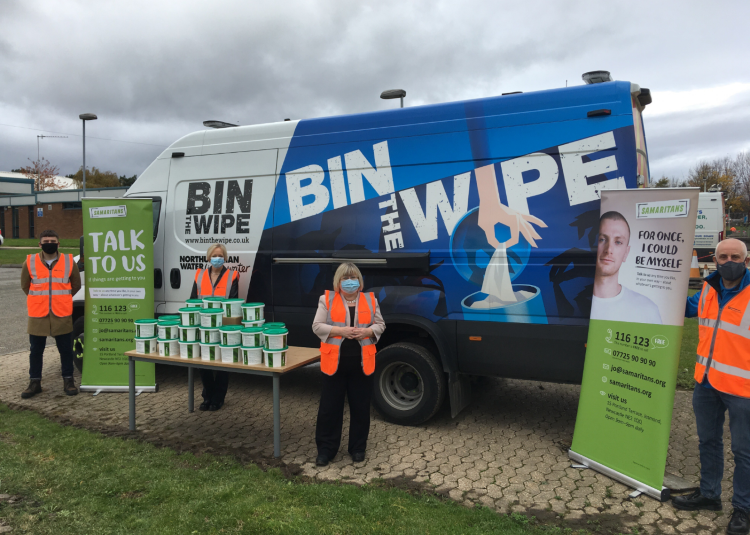 The North East water company offered to help after finding out that the Tyneside branch of the Samaritans were struggling to find a supplier for heavy-duty cleaning wipes.
Large tubs of industrial cleaning wipes, worth hundreds of pounds, were supplied by Northumbrian Water to help keep the charity's call centre spic and span for its volunteers.
And in response, the charity has pledged to support the company's campaign to Bin The Wipe to protect the environment and prevent flooding.
Stuart Barnes, Sewage Treatment Works Manager at Northumbrian Water, said: "Supporting our local communities is even more important at these difficult times and it's fantastic that we can support the amazing work of this charity, and its volunteers.
"The donation of wipes will ensure the working areas for the volunteer call takers is clean and Covid-secure, so they can continue to provide support for people in need."
Day or night, Samaritans are there for anyone who is struggling to cope or in need of someone to lend an ear without any pressure or judgement - with the charity answering a call for help every seven seconds.
The Branch Director of Tyneside Samaritans, said: "We are so grateful to Northumbrian Water for providing the anti-bacterial industrial wipes for our local branch, which will help to ensure that all of our volunteers who are manning the phones 24/7 can do so safely and in a COVID-secure way.
"We have struggled to obtain suitable industrial-quality cleaning materials to enable us to disinfect all of the work surfaces, key boards and telephones which is essential when trying to keep our volunteers safe and to allow them to continue providing this critical service.
"Samaritans operate a voluntary listening service to anyone struggling emotionally and especially in these extremely challenging times."
A Tyneside MP has welcomed the support from Northumbrian Water for the charity that's close to her heart.
Liz Twist, MP for Blaydon, said: "I have been an active volunteer for many years now and offered a listening ear to anyone battling with thoughts of suicide or in distress.
"We are here for anyone who needs to offload and the team of volunteers will always listen anonymously. It's important for us to talk to each other, but it's also important that we continue to keep our amazing volunteers safe.
"The donation from Northumbrian Water will help to ensure a safe environment for everyone at the branch but we've made a pledge after using them and that's to Bin The Wipe."
Northumbrian Water's 'Bin the Wipe' campaign is aimed at encouraging customers not to flush wet wipes and to dispose of them in the bin, after finding around 64% of the 15,600 sewer blockages cleared in 2019 were caused by wet wipes.
The utility company is continuing to battle an increasing number of avoidable blockages and is warning customers of the devastating consequences that wrongful flushing can have, when toilets are used as a bin.
For more information on Bin the Wipe: www.nwl.co.uk/binthewipe
For more information about Tyneside Samaritans and how you can donate/support: www.samaritans.org/branches/newcastle/
Photograph taken pre-November lockdown showing from right to left, Stuart Barnes of Northumbrian Water, MP for Blaydon - Liz Twist and volunteers from Tyneside Samaritans.