Four new electric vehicle (EV) charging points are now active in the car park of a busy Tyneside transport hub, thanks to a donation by Northumbrian Water.
The charge points have been installed by EV charger experts Elmtronics in the long stay car park at Heworth Interchange. This follows the water company's £4m project to protect the environment by upgrading nearby sewers and highway drainage in partnership with Gateshead Council.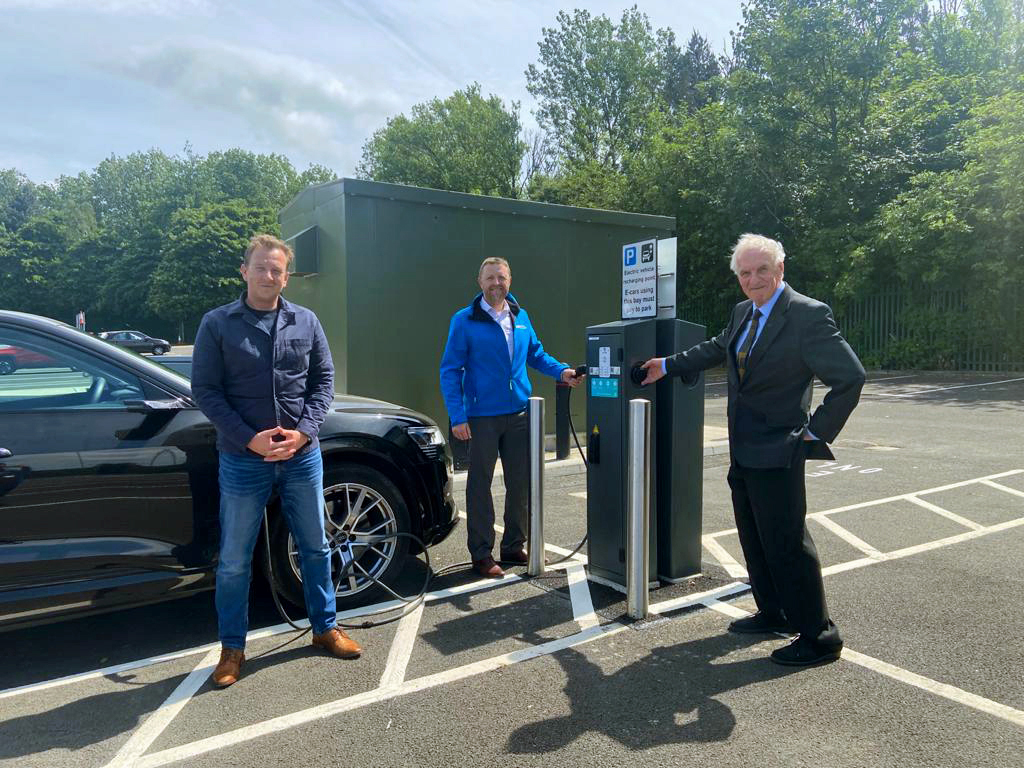 Picture shows, left to right: Simon Tate (Elmtronics), Paul Davison (Northumbrian Water), Councillor John McElroy (Gateshead Council)
The work required Northumbrian Water to use part of the car park to construct a new surface water pumping station, and the installation is a thank you to commuters and other passengers for their patience.
Paul Davison, Northumbrian Water's Project Manager, said: "The work we carried out separated a large part of the Heworth Burn from our sewerage system, increasing capacity within our network and reducing the potential for flooding from sewers and highway drainage.
"It's great to be able to leave something really positive behind to benefit those who use Heworth Interchange, as well as the environment, giving electric vehicle drivers an opportunity to charge and park there."
The installation of the two twin fast chargers represent the second part of Northumbrian Water's expression of gratitude to passengers who visit Heworth Interchange. This follows the fitting of a defibrillator on the concourse, for use if someone suffers a cardiac arrest.
Councillor John McElroy, Gateshead's Cabinet Member for Environment and Transport, said: "We are delighted that Northumbrian Water has chosen electric vehicle charging points as a way to thank car park users for their patience during the recent upgrades.
"The charging points will help promote sustainable travel and benefit the growing number of electric car users who use the Park & Ride facilities at Heworth North. The Council has set ambitious targets to reduce carbon emissions by 2030 and is keen to introduce more charging points in its car parks. These charging points will help in achieving that."
Emma Spark, Elmtronics Account Manager, said: "As part of the Prime Minister's ten-point plan for a Green Industrial Revolution, Elmtronics has worked with various organisations to install EV chargers throughout the UK to assist in the movement to sustainable motoring.
We worked with Northumbrian Water to offer the best public EV solution, installing fast chargers connected to our Hubsta network so passengers can plug in and charge away with ease."