Innovative floating islands that were installed as a part of a major North Tyneside flood reduction scheme, are already teeming with wildlife one year on.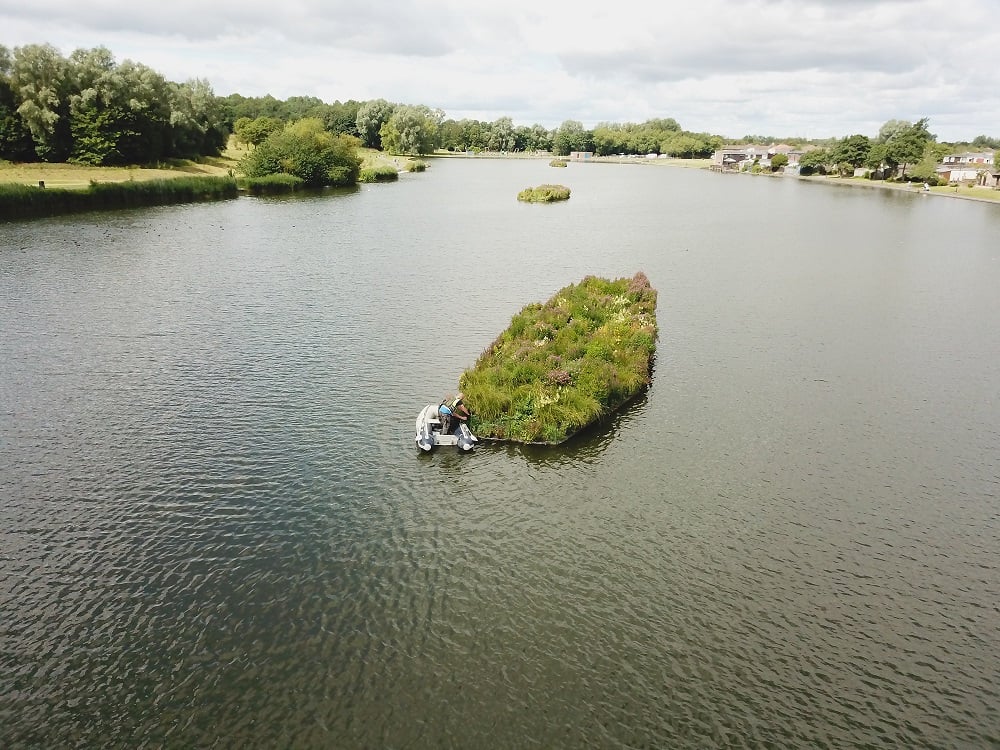 Almost 20 different species of native shrubs and aquatic plants are thriving on the three floating islands, which were fixed to the centre of Killingworth Lake in March 2019.
Made from 100% biodegradable coconut coir, recycled water pipes and stainless steel connections, the aim of the wetland ecosystems was to improve biodiversity on the lake, creating important new nesting areas for water birds, and a natural habitat and food for a variety of wildlife and fish.
The islands also help to keep the lake's water clear naturally, with the growing plant roots sucking up excess nutrients and cleansing the water.
They were installed as part of the final phase of a joint £6 million flood reduction project, carried out by Northumbrian Water, North Tyneside Council, the Environment Agency and supply partners Esh-Stantec.
Completed last year, the project will help to increase flood protection to more than 3,500 homes in Killingworth and Longbenton with benefits already being seen during time of heavy rainfall, where grassed storage basins help to reduce the impact of surface water flooding locally.
Northumbrian Water's Project Manager, Lynn Preston, said: "At Northumbrian Water we're passionate about enhancing the environment and it was great to be able to install something as part of this three-year partnership project that mimics what nature has perfected.
"They offer food for fish and are hopping with birds, as well as keeping the lake clean and clear. In addition to reducing the risk of flooding in the area, we're proud this project has delivered some wonderful community benefits such as these islands and it's great to see them thriving."
Cllr Carole Burdis, North Tyneside Council's cabinet member with responsibility for Community Safety, said: "It's great to see the impact that these floating islands have had so far. We are committed to making sure that homes and families in North Tyneside are safe from flooding, and this project plays a big part in this.
"It is also having a great effect on our environment, providing a home for a variety of wildlife and helping to keep the lake's water clear. Killingworth Lake is a beautiful spot and these islands only enhance it, so we're delighted to have them there."
It was the first time the agencies had used floating eco-systems like this, which were designed, built and installed by specialist contractors Biomatrix Water and planted up by pupils from West Moor Primary School.
Biomatrix Project Manager, Jamie Gordon, said: "As the Killingworth Lake project has shown, floating ecosystems can bring a variety of transformative benefits to urban waterbodies, not only creating an urban wilderness where a variety of species can thrive amongst humans, but functioning to improve water quality and increasing local amenity.
"It was also a pleasure seeing the local schoolchildren connect with the ethos of the project and gain some hands-on experience"
Pictures show: Killingworth floating islands in 2020 and Killingworth floating islands in 2019.
For further media information, call 0333 321 4841.
Notes to Editors: Northumbrian Water Limited supplies 2.7 million customers in the North East with both water and sewerage services, trading as Northumbrian Water, and 1.8 million customers in the South East with water services, trading as Essex & Suffolk Water.
In 2019, Northumbrian Water Group named the world's most ethical water company for the eighth time and were award 19th Best Place to Work in the Sunday Time Best Big Companies to Work For. Northumbrian Water was also named the number one place to work in the North East.
Abbey Road, Pity Me, Durham DH1 5FJ. Telephone 0345 604 7468. Website: www.nwl.co.uk