Nearly 1,500 runners and cyclists have kicked off the first day of the Active Northumberland Kielder Marathon tenth anniversary weekend.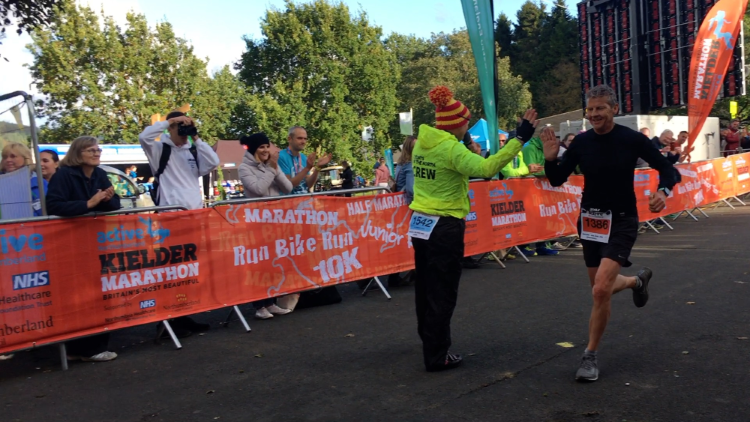 Olympic athlete Steve Cram lined up alongside competitors taking part in the Run Bike Run duathlon today (12 October).
The Race Director stepped from behind the scenes as organiser and into the race for the first time since its inception, to help runners celebrate the weekend's tenth birthday.
Olympian and world record holder Aly Dixon also took part in this year's Run Bike Run which saw relay team Paul and the Pedes-tree-ans cross the finishing line first in 2hours and 05secs.
Stephen Magrath was the first individual through the Run Bike Run and he did it in 2hrs, 1min and 57secs.
The first female individual in the Run Bike Run was Samantha Crooks in 2hrs, 32mins and 57secs.
In the 10K event, Liam Taylor from Sunderland Harriers, took first place, crossing the finish line in 35mins and 05secs.
The winning female was Emily Dudgeon with a time of 38mins and 59secs in the 10k.
The Active Northumberland Kielder Marathon weekend, is delivered by Events of the North in conjunction with Northumbrian Water, Active Northumberland, Northumberland County Council and Northumbria Healthcare NHS Foundation Trust.
Race Director Steve Cram, who completed the Run Bike Run in 2hrs, 38mins and 45secs said: "This year marks the tenth anniversary of the Kielder Marathon and what a fantastic way to kick off the celebrations!
"This is the first time I have taken part in the Run Bike Run and while it was challenging, I enjoyed every minute of it. The scenery was stunning and it was great to see the event from a different perspective.
"We've seen some amazing running performances today including an inspirational performance from Sheena Robinson who had a double lung transplant last year and completed the 10km course. I can't wait to see what tomorrow holds for our competitors.
"I'd like to thank everybody today who either took part or came to support their friends and all our amazing volunteers."
Race information
Kielder 10k:
1st male and overall winner - Liam Taylor, Sunderland Harriers - 00:35:05
2nd male - Mark Snowball, Morpeth Harriers - 00:35:25
3rd male - David Best, Blackhill Bounders - 00:36:42
1st female - Emily Dudgeon, Edinburgh AC - 00:38:59
2nd female - Catherine Young, Claremont Road Runners - 00:40:59
3rd female - Claire Davies - 00:41:33
Kielder Run Bike Run:
1st team and overall winner - Paul and the Pedes-tree-ans - 2:00:05
2nd team - The Generation Game - 2:02:27
3rd team - Sedgefield Harriers A - 02:02:57
1st male individual - Stephen Magrath - 02:01:57
2nd male individual - Michael Mason - 02:04:10
3rd male individual - Trevor Dixon 02:07:28
1st female individual - Samantha Crooks - 02:32:57
2nd female individual - Tracy Henderson - 02:40:34
3rd female individual - Philippa Graham - 02:43:00


Steve Cram - 02:38:45