A North East man is joining six other professionals from across the UK water industry in tackling a 12 mile walk around landmarks of London on 29 October to raise awareness and funds for the charity WaterAid.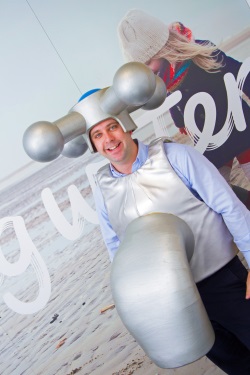 Jonathon Banks, a Technical Support Advisor for Northumbrian Water, will be joining the group that will dress up as taps and toilets and walk the 22,000 steps to replicate the distance many mothers and children in developing countries must walk every day to collect water.
The walkers are members of the Institute of Water's Rising Stars, a group of Water Sector professionals who have been identified as being new industry talent and given the opportunity to develop their skills.
Jonathon, from Gosforth, and who works at Northumbrian Water's Cramlington Sewage treatment Works, said:
"Around the world, one in ten people don't have clean water close to home and this walk will emulate what these communities have to endure on a daily basis.
"The group are coming from across England, as well as Northern Ireland, Wales and Scotland, and we will be going through some of the busiest parts of London, armed with buckets and wireless payment methods, hoping to raise awareness of the issues WaterAid tackles."
Caroline Wakelin, Water Industry Partnerships Senior Manager for WaterAid said:
"We're thrilled that the 'Rising Stars' are transforming themselves into walking taps and toilets - not something you see every day in London! It's a fun way to draw attention to the fact that clean water, decent toilets and good hygiene should be a normal part of everyone's daily life, but for millions of people this isn't the case. With access to these vital facilities comes a healthier childhood, an ability to attend school unhindered, women can earn a living, and whole communities can thrive, ultimately helping people break free from poverty and change their lives for good."
The walk takes place on October 29 and starts at WaterAid's offices in Vauxhall, taking in Buckingham Palace, Big Ben, London Eye, Horse Guards Parade, The Mall, Trafalgar Square, Piccadilly Circus, Oxford St., Regent St., John Snow Water Pump, Leicester Square, Somerset House, St Pauls Cathedral, Tower of London, Tower Bridge, HMS Belfast, Golden Hinde, Shakespeare's Globe, and Westminster Bridge.
To donate, people can visit https://www.justgiving.com/fundraising/instituteofwater-risingstars