Northumbrian Water has scooped a global award for an innovative use of artificial intelligence that has seen it improve the way it collects and stores digital information about its assets.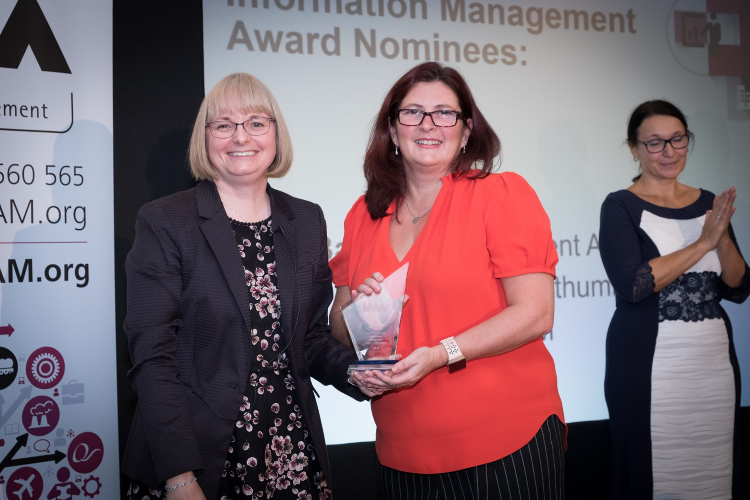 Picture attached above shows: President of the Institute of Asset Management, Ursula Bryan (left) and Northumbrian Water's Nikki Walsh (right).
The Intelligent Asset Management (IAM) Global Awards recognised the North East water company in the 'Information Management Achievement' category at its prestigious award ceremony, held in London.
Over the last twenty years, Northumbrian Water has built up more than 20 million electronic documents of its assets, including technical drawings and locations of its treatment works and pipes.
The sheer volume of the data, plus changes to software and hardware, as well as to team structures, meant that there was a risk of drawings being lost or stored on different drives, making them hard to find.
Over the last year, the company has built an intelligent new system which uses artificial intelligence to automatically open the drawings, identify what is on them and store them with the right tags so they can be found again easily.
Improving the documents and drawings in this way, makes finding the information Northumbrian Water needs to look after its assets much easier for its operational and engineering teams.
Nikki Walsh, Head of Asset Intelligence at Northumbrian Water, said: "We're absolutely thrilled with this prestigious global award. It's the second award we've received in as many months for our innovative approach to changing the way we capture and store data.
"Before the new system, with all of the data that we held, if we were to open every single document manually it would take us 81 years! We're pushing the boundaries of digital and data technology, enabling more efficient and effective asset management.
"The better the information becomes, the better and faster the asset management decisions we can make and we're delighted to be leading the way in the industry with this approach."
Northumbrian Water beat off competition from the likes of IBM and the Environment Agency in the Information Management Achievement category.
A number of other companies from across the world, covering a wide range of sectors, were also present at the IAM Global Awards 2019, which were hosted by the Institute of Asset Management.
The awards celebrate outstanding achievements in asset management, commending organisations who have worked to improve aspects of an asset management system to generate benefits for wider society.