As this year's World Environment Day (Friday 5 June), falls exactly one week after Essex & Suffolk Water experienced its highest demand for water in May in 10 years, the company is reminding people to protect this precious resource and keep the environment healthy.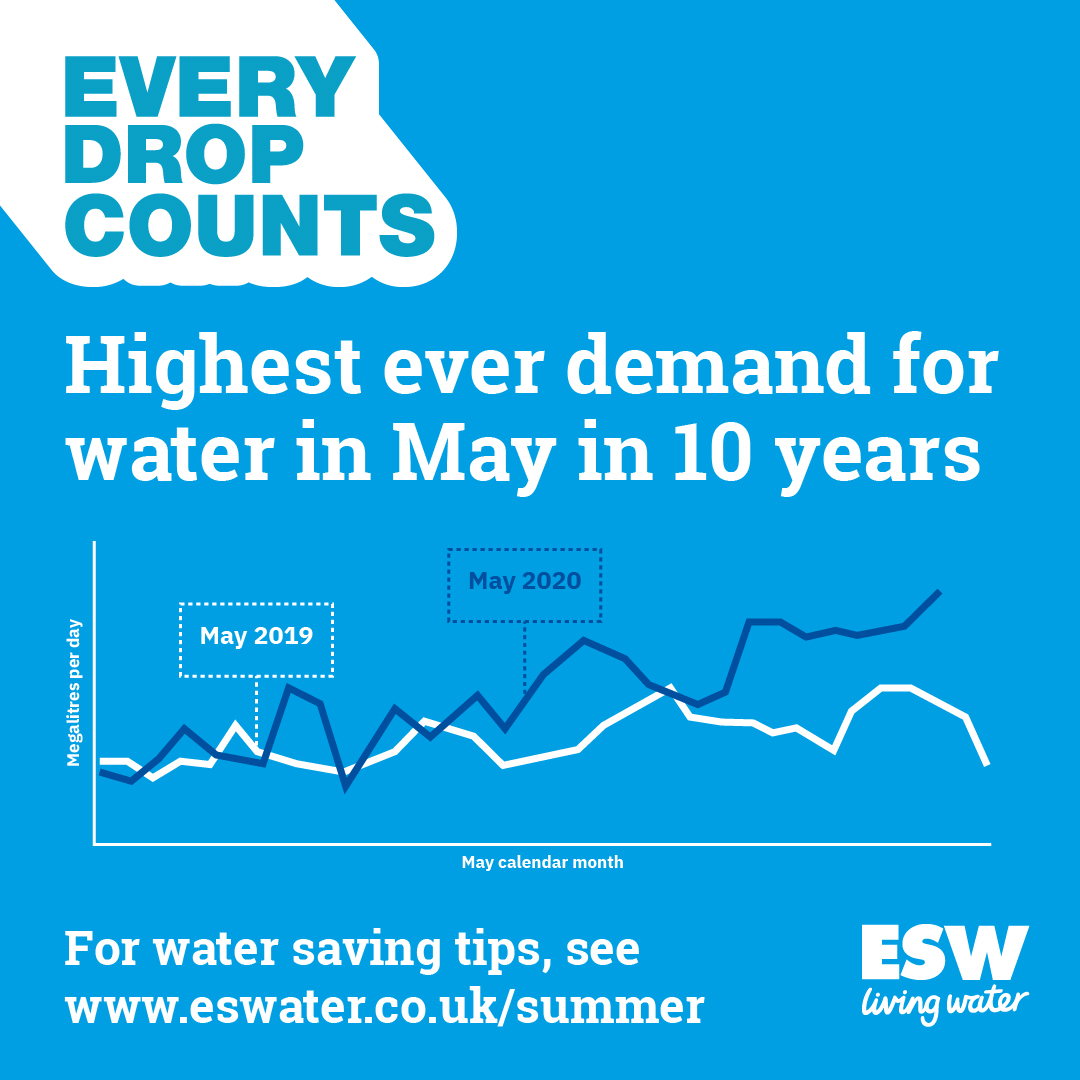 The weather might have recently changed, but as the country sweltered in the sunniest and driest May on record last month, people across Essex and Suffolk were using around 17% more water than usual.
The Suffolk area saw its highest ever demand for water in 10 years and in Essex, the average demand for water was not far off the highest demand for water in any month within the past 12 years.
To keep the water flowing, Essex & Suffolk Water's workers were treating and pumping an extra 100 million litres of water through the network each day - equivalent to 53 Olympic-sized swimming pools.
But this World Environment Day, which encourages worldwide awareness and action for the protection of the environment, the water company is reminding people that water is our most precious resource and we should use it more responsibly.
Tim Wagstaff, Water Efficiency Manager at Essex & Suffolk Water, said: "Without water, life would not exist on earth. We simply cannot survive without it.
"Climate change and population growth are putting increasing pressure on the demand for water, which means more water needs to be taken out of the natural environment.
"Water is not an infinite resource and we should all play our part to conserve it. It's not just about water use on hot days either, a lot of work goes into turning rainwater into something we can safely drink and use. That uses a lot of energy and has an impact on our carbon footprint.
"While overall water supplies in the region remain at healthy levels, we'd recommend using water wisely in the home and garden all year round. Even small changes, such as knocking a minute off your shower, can make all the difference to our customers' pockets, as well as the environment."
As summer approaches and the likelihood of warm weather increases, Essex & Suffolk Water has a whole host of water saving tips on its summer pages of its website at www.eswater.co.uk/summer to help customers conserve water and protect the environment.
They include:
Water plants in the evening or first thing in the morning, to retain moisture in the soil.
Don't fill the paddling pool to the top - you could save 30 litres of water per inch saved.
Keep a jug of water in the fridge so you have cool and refreshing water to hand, saving you running the tap.
Use a watering can to water the garden, instead of a hose or sprinkler system.
Use a bucket rather than a hose to wash the car.
Have a refreshing shower rather than a bath and save 10 litres every time. By taking shorter showers (aim for four minutes per day) - you can save up to 17 litres per day.
Turn off the tap when brushing your teeth and save 6 litres of water each time.
Use full loads in your dishwasher and washing machine.
Get a water butt to collect rainwater. This gives you a free supply of water to use in the garden during warmer periods.
Report any leaks you spot so that they can be fixed quickly - visit www.eswcommunityportal.co.uk/leaks or call 0800 526 337.
Customers should continue to wash their hands regularly using soap to help stop coronavirus spreading.
More water saving tips and free water saving kits are available online at www.eswater.co.uk/savewater