The Kielder ospreys have been making the most of the warm weather and adding to their numbers, following a record return to Northumberland.
Already, at least 11 chicks have hatched and are doing well, while there are further eggs on nests, bringing the hope of even more new arrivals. Amazingly, for the fourth year out of five, the pair on Nest 1A have four chicks, an unusual feat.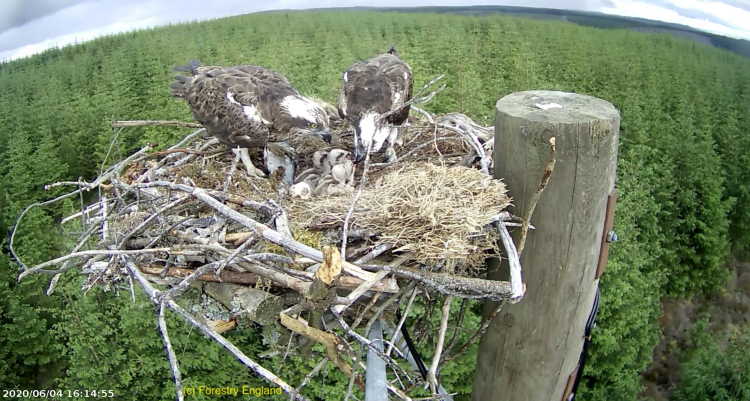 Picture: A rarity - one nest, four osprey chicks
(Picture credit: Forestry England)
2020 has also proved the best year ever for returning ospreys, with three 2018 chicks having found their way back to Kielder, the trio are among an overall total of 14 to come back. This is the twelfth year ospreys have returned to Kielder, following recolonisation in 2009, prior to which the species hadn't been witnessed breeding in Northumberland for almost 200 years.
Lynn Turner, Director of Kielder Water & Forest Park, said: "We're really pleased with the way things are going for the ospreys so far this year. We've been able to confirm 11 chicks, but we believe there are at least two more on one nest and we know another nest has a pair of birds incubating, with potential new hatchlings expected around the middle of the month.
"This is brilliant news and we are really excited to see how many more we get and to start the naming process in the coming weeks. This year, the chicks will be named after Northumberland places beginning with D, as we mark the fourth year of the new naming process."
While Covid-19 has meant that Kielder's Osprey Watch hasn't been able to operate so far this year, videos, images and updates are being regularly posted on Osprey Consultant Joanna Dailey's blog at kielderospreys.wordpress.com.
Over the past 12 years, Kielder Water & Forest Park has been proved to be the perfect environment for ospreys to thrive, with 250sq miles of forest surrounding the birds as well as the open water of the biggest man-made lake in northern Europe.
The Kielder Osprey Project is a partnership between Kielder Water & Forest Park Development Trust, Forestry England, Northumberland Wildlife Trust, Northumbrian Water and Calvert Kielder. The partners are working hard to ensure that the ospreys are here to stay by maintaining a high quality habitat in Kielder Water & Forest Park and safeguarding and monitoring the nest sites.
Kielder Water & Forest Park Development Trust
Kielder Water & Forest Park spans 250 square miles, is home to the largest forest in England and the largest man-made lake in northern Europe. It was awarded the number one tourism experience in England by Visit England 2013, and the most tranquil place in England by the Campaign to Protect Rural England. Together with Northumberland National Park, it was granted gold tier Dark Sky Park status in December 2013. For more information see www.visitkielder.com
Kielder Water & Forest Park Development Trust is a registered charity working to develop the Park as an inspirational place. It aims to improve economic, social and environmental sustainability, provide public recreation and leisure facilities, and facilitate education in all aspects of the natural environment and advance art and architecture in the Park. The Trust works with the range of communities to benefit from these activities.
Members, who have appointed directors/trustees to serve on the board, are Northumbrian Water, Forestry England, Calvert Kielder, Northumberland County Council, Northumberland Wildlife Trust, Northumberland National Park Authority and Kielder Observatory Astronomical Society. Affiliate organisations that are not members but have a close working relationship with KWFPDT include Arts Council England, Environment Agency, The Scout Association and local decision making bodies such as the parish councils.
Forestry England
Forestry England manages and cares for the nation's 1,500 woods and forests, with over 230 million visits per year. As England's largest land manager, we shape landscapes and are enhancing forests for people to enjoy, wildlife to flourish and businesses to grow. For more information visit forestryengland.uk. Forestry England is an agency of the Forestry Commission.
Northumberland Wildlife Trust
Northumberland Wildlife Trust is the largest environmental charity in the region working to safeguard native wildlife. One of 47 Wildlife Trusts across the UK, Northumberland Wildlife Trust has campaigned for nature conservation for over 40 years. It aims to inform, educate and involve people of all ages and backgrounds in protecting their environment in favour of wildlife and conservation.
Supported by over 13,000 individual and 100 corporate members in the region, Northumberland Wildlife Trust manages and protects critical species and habitats at over 60 nature reserves throughout Newcastle, North Tyneside and Northumberland.