Frozen prices, a new online booking system and more chances to catch the fish of a lifetime are on offer for anglers when the 2020 fishing season opens at Northumbrian Water's Waterside Parks and fisheries.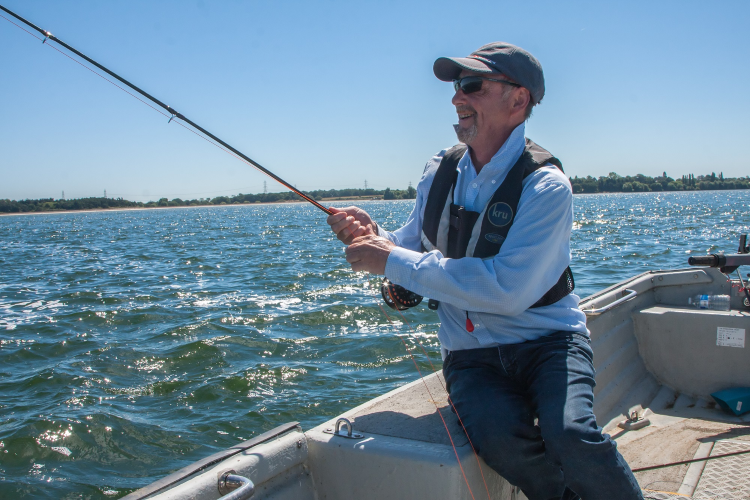 The season opens from 8am on Saturday 14 March 2020 and is set to offer exciting fishing for all.
Recent investment in Northumbrian Water's fish farms at Fontburn and in Teesdale means that anglers can continue to see increased catch weights at Fontburn, Derwent, Hury and Scaling, which are stocked exclusively from these locations.
Continued improvements in stock mean several specimen trout, more fish in the 3lb to 5lb range, and more double-figure trout will be introduced, for a more rewarding experience.
In the interest of safety during upgrade work being carried out at Grassholme Reservoir throughout 2020, angling has been moved from that location to Hury Reservoir, making this site open to all-method fishing for the duration of the season. Subject to planning, the work at Grassholme will ultimately deliver improved fishing facilities, including new disabled angling amenities.
Thanks to efficiencies made by Northumbrian Water, the company has ensured permits remain at 2019 prices. These efficiencies mean that, while the current loyalty scheme will close on May 31, it will be replaced by a series of special offers across all sites throughout 2020. Anglers who have existing loyalty cards can redeem any free days of fishing in March, April or May.
Offers, including discounts on tackle, bait and permits, will be advertised on social media and the website, as well as at sale locations.
Don Coe, Waterside Parks Operations Manager, said: "It's going to be another exciting year for angling at our Waterside Parks, with bigger fish, frozen prices and fantastic offers.
"We've continued to listen to anglers and develop the stock to create new challenges and greater rewards, as well as making booking easier, with people able to do so online before they come to us.
"The temporary closure of Grassholme offers a great opportunity for anglers to try out Hury, which is only a couple of miles away, but the visitor centre will remain open for shopping, permits and advice."
Additionally, a new online portal will offer booking in advance, making the fishing experience even more straightforward.
To find out all that is new for 2020, visit www.nwwatersideparks.co.uk/trout-fisheries
Visitor centres and fishing lodges at Fontburn, Derwent, Grassholme and Scaling Dam will be open from 8am Monday to Sunday. Bank permits are available from 6am at Kielder Waterside, seven days a week. Boat hire at Kielder Waterside will be available from Saturday 16 March and can be booked by calling 01434 251000 before your visit.
To request a copy of this year's guide please call 0345 155 0236 or by emailing go.fishing@nwl.co.uk.
Price structure for 2020 season at:
Fontburn, Derwent, Grassholme, Hury and Scaling Dam
New £10 under-17s day permit (2 fish)
New £19 day permit, fly only catch and release (optional 1 fish)
New £23 day permit (5 fish)*
£27 day permit (8 fish) with concessions at £25*
£41 Family and couples permit (12 fish)
Price structure for 2020 Kielder Waterside
New £10 under 17s day permit (2 fish)
New £17 day permit, fly only catch and release (optional 1 fish)
£25 day permit (8 fish) with concessions at £23*
£39 Family and couples permit (12 fish)
£15 full day midweek boat hire
£12 half day midweek boat hire
£19 full day weekend boat hire
Anglers can pay an extra £5 to fish with two rods on any of the starred permits above.