Northumbrian Water's efforts to achieve Net Zero in 2027 and reduce energy costs are shining bright with the company's latest move to install more green energy generation on a number of its sites.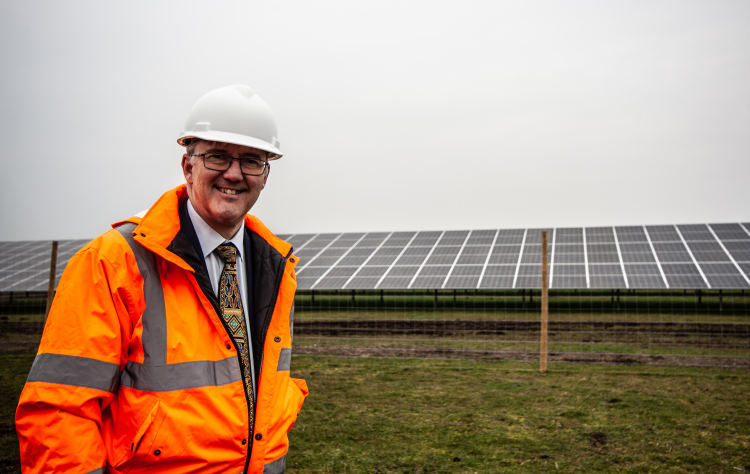 The company has now switched on an array of 3600 solar panels at its Lumley Water Treatment Works in County Durham, the first of six sites where the technology is planned to be added this year.
Work to add solar arrays to sewage treatment works at Sedgeletch, Billingham, Newton Aycliffe and Blyth is now underway, while planning permission is being sought for panels to be installed on land near the Broken Scar Water Treatment Works, in Darlington.
The Lumley array is the second that has been installed on a Northumbrian Water site, following its 943-panel array at Bran Sands on Teesside in 2016.
The 1.9 million kWh of energy that will be generated by the array at Lumley adds to the 220 thousand kWh generated at Bran Sands.
With the addition of solar at the six new sites, Northumbrian Water anticipates generating 12 million kWh per year by the end of 2022. This energy will be used to power the sites, helping the company to further reduce its carbon emissions and mitigate rising energy costs, helping to protect customers' bills in the process.
Graham Southall, Group Commercial Director at Northumbrian Water, said: "Between 2008 and 2020, the company's carbon emissions were reduced from 303,000 to 56,000 tonnes. This is something we are really proud of, but we know that there is a lot of hard work still to do.
"Water and wastewater treatment are energy intensive, so while we are looking at innovative methods of reducing that consumption, we are also looking to make the best use of the space we have on these sites to generate green power. Solar represents a great opportunity to maximise the potential of that space. By doing so, we can take an important step towards our Net Zero goal.
"Solar is a growing part of our green energy generation mix, but we also use 100% of our sewage sludge to create 'Power From Poo' and operate hydro power stations at sites across County Durham and Northumberland. And we also use green electricity at every one of our sites, from the largest treatment works to the smallest telemetry system.
"It's fantastic to be able to add this extra solar capacity to our sites as we press on with our ambition of Net Zero in 2027."