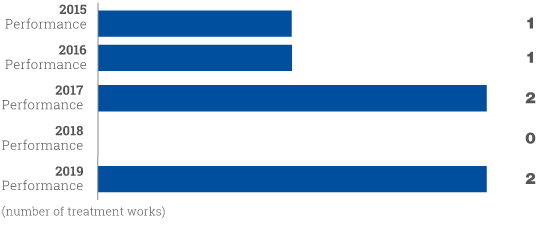 Our Sewage Treatment Works (STWs) treat wastewater from homes and businesses so that it can safely be returned to the environment: to rivers or the sea.

Before it can be returned, this wastewater must comply with strict permits. Compliance is assessed by taking regular samples which are analysed for the concentration of chemicals present including phosphorous and ammonia.

Compliance is then reported annually (on a calendar year basis) by the EA, and forms part of its Environmental Performance Assessment (EPA).

We have a very strong discharge compliance record for our numeric STWs which is an area where we have held an excellent industry position. Our performance in 2018 for STW discharge compliance was zero. This has been an extremely stretching target to maintain, and we have experienced a number of challenges including third party influence, and extreme weather events.

During 2019, permitted concentrations were breached at two STWs (out of a total of 159). One of these failures related to an issue with a third party disposing of unauthorised trade effluent into the sewerage network.

Subsequently, in late December 2019, complications were encountered with a batch of samples relating to a further three STWs. In addition to the 'real' samples taken from our STWs, each batch of samples contains a number of quality control samples, of known concentration, which are used to check that the laboratory analysis process is producing accurate results. On this occasion, however, the results for the quality control samples were outside the strict tolerances required by our laboratory accreditation for one parameter, biological oxygen demand (BOD). This meant that the results for the real samples from the three STWs could not be relied upon for this one measure and were null and void (although everything strongly indicated that had the analysis process worked accurately that these samples would have comfortably passed their BOD consent targets). All other parameters were passed comfortably. These occurrences are not uncommon and form an important part of the routine laboratory quality control procedures to ensure strict standards are maintained. Ordinarily, had this occurred earlier in the year, additional samples would then be taken and the analysis repeated, something the EA reporting requirements make allowance for. On this occasion, however, due to the fact that this occurred in late December, there was no time remaining in the reporting year to re-sample, and hence the EA classifies these as 'missing samples' which by default are classified as failures.

As a result, the EA intends to report five failing STWs for NWL for 2019, in the next iteration of its EPA, which will have a detrimental impact on NWL's rating. We are understandably disappointed with this outcome which is not reflective of the impact that our sewage treatment operations have had on the environment.

The reporting definition for the corresponding performance commitment, however, stipulates that 'technical failures' should not be counted. The EA has confirmed that the three additional failures are technical in nature hence we are reporting only two failing works against the performance commitment.
Three-year average performance

Our target for sewage treatment compliance is based on a three-year average.

During the period 2017-19 no reward or penalty has been attributed to performance on this measure.

WHITBURN SPILLS REDUCTION

During 2015-20 we had a specific target to reduce spills at Whitburn in our Northern operating region.

In December 2017 we completed an £8million investment in Sunderland that reduced the amount of times that storm water discharges into the sea at Whitburn Steel sewage pumping station and into the River Wear near to St Peter's Church.

The scheme has successfully delivered the benefits it set out to achieve with a reduction in the number of spills. It has also provided sustainable green spaces for people to enjoy and valuable wildlife habitats.